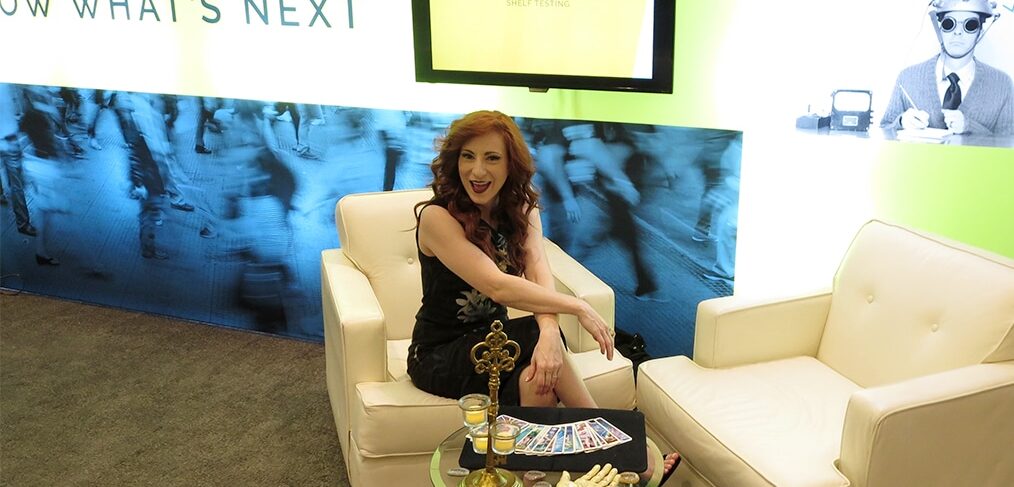 Fortune Telling Activation The Quirks Event Brooklyn
This week was so much fun! I had the opportunity to pamper the attendees of The Quirks Event with my Modern Divination at The New York Marriott at the Brooklyn Bridge.
I was thrilled that Toluna called upon me to help them deliver this year's concept of Knowing What's Next and Predicting the Future during their happy hour event.
Understanding who you are and what you want to create has a great impact on predicting your future. They wanted a fun activation to highlight this theme while also attracting attendees to their booth.
I offered each attendee a choice of a Modern Palm or Modern Tarot Reading. My Modern Divination attracted so many attendees. While they were eagerly waiting in line to sit with me, they had enough time to speak with the representatives from Toluna and network with each other.
By the time each attendee sat with me, they had made some new contacts and when they left me, they felt refreshed and energized about what's ahead.
I really enjoyed my time at Toluna's booth. Their big comfy chairs allowed attendees to relax after walking the floors all day while receiving an amazing and inspiring reading with me.
I received the following testimonial the next day:
Raven was attentive, professional, and polite from the get go. She brought great traffic to our booth and our clients loved her readings. Everyone I spoke to sang her praises of her accuracy. I would highly recommend her for any corporate, or social event.

– Samantha A , Marketing Manager – Toluna
I'm excited to help you make your next conference unforgettable. Feel free to contact me today.