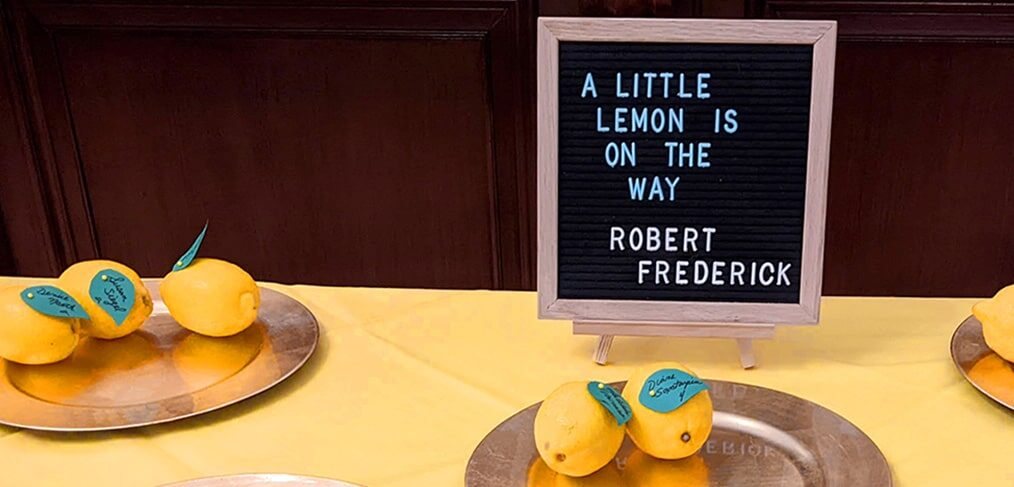 Baby Shower Fun with Insightful Palm & Tarot Readings
I recently had the opportunity to be a part of Melissa's Baby Shower Celebration. This particular shower was so special because I was also a part of her bridal shower in 2019.
It was at The Eagle Oaks Golf & Country Club in Farmingdale, NJ. The grounds were beautiful and the rooms were elegant with big windows, allowing the bright sunlight to shine in.
Melissa loves the color yellow and they had the cutest theme…lemonade! If she's having a boy, there will be blue accents and if a girl, pink. The lemonade pitcher with lemons and deeply hued blue flower centerpieces were delightful.
Guests were welcomed by a table of seating cards that were actually fresh lemons, adorable! And of course, they had a lemonade stand adorned with fresh lemons.
There were different stations for guests to visit. My favorite was the Make A Wish station, where guests could leave a little note, quote or wish for the family and hang it on the tree. It looked so pretty & inspiring at the end of the day with all the lovely well wishes hanging from it.
Adding to the fun & excitement, I pampered and inspired. Guests sat with me for a quick & insightful Palm or Tarot Card Reading. It was so good to see so many of the guests again. And I was so touched that many guests remembered sitting with me for their Chocolate Divination.
A baby shower is such an important day for Mom & family and I'm so grateful & overjoyed that this family called on me a 2nd time to help them celebrate and make another occasion really special.
I'm so grateful to have received this lovely testimonial…
"Thank you so much Raven!!! Having you made Melissa's shower extra special! So good to see you again! Thank you thank you!!" Christina S
Looking to add something fun & unique for your guests at your next event? Entertainment that will win you complements for weeks, months and even years? My Modern Divination will make your shower celebration super special. Contact me today and we'll talk all about what will make your event stand out above the rest.