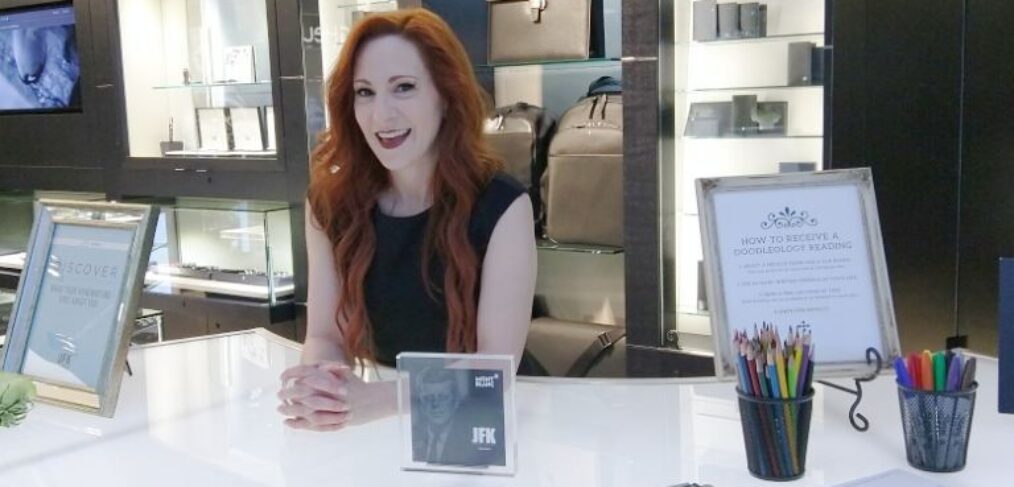 Westfield, American Airlines International Shoppes JFK Terminal 8 Event
This week I had the pleasure of being a part of the experiential event at JFK's Terminal 8 International Shoppes. They were celebrating the success of this 10,000 square feet of space that has been redeveloped and occupied by luxury brands. I can attest, it's an absolutely beautiful place.
Mont Blanc wanted to highlight their new John F. Kennedy Special Edition Ballpoint Pen in a unique way while also keeping in line with their elegant brand. My Doodleology Readings were the perfect fit! Guests received an insightful and inspiring personality reading based on their drawing and signature.
Mont Blanc wanted the moment of using this pen to be special. Guests had access to some colored pencils and markers to create their amazing drawings. Then just before receiving the interpretation, they had a moment to touch, feel and experience the Special Edition JFK Pen by signing their artwork with it. The pen is amazing, it literally glided across the page with absolutely no effort.
My readings brought a lot of attention to the Mont Blanc store. From the moment I gave my first interpretation, there was a buzz and word spread. The event was a total of two hours and I don't think I had a moment of the pause the entire time. There was this incredible excitement around my space. Everyone, from airport stakeholders to executives and management to employees, found the Doodleology Readings to be so different, fun and insightful. Mont Blanc was the busiest store at the event.