Virtual Palm and Tarot Readings
Something completely different…
Looking for fun and engaging virtual activity for your group? Well, you're in the right place. If you want to offer an unusual and uniquely personal experience
I offer the same, fun intuitive reading entertainment that I normally do for live events now through Zoom. I've been working hard for the last few months to ensure that the virtual experience is as close to sitting with me live at an event as possible .
Virtual Tarot and palm readings add an atmosphere of excitement and mystery for your group. They can open up some amazing conversations. As well as lift our moods and make us feel less isolated and more connected in the digital world.
Everyone loves to hear about themselves, and the experience is something that they will remember and take away forever, if you are searching for a unique activity that can be run virtually my readings are the perfect answer.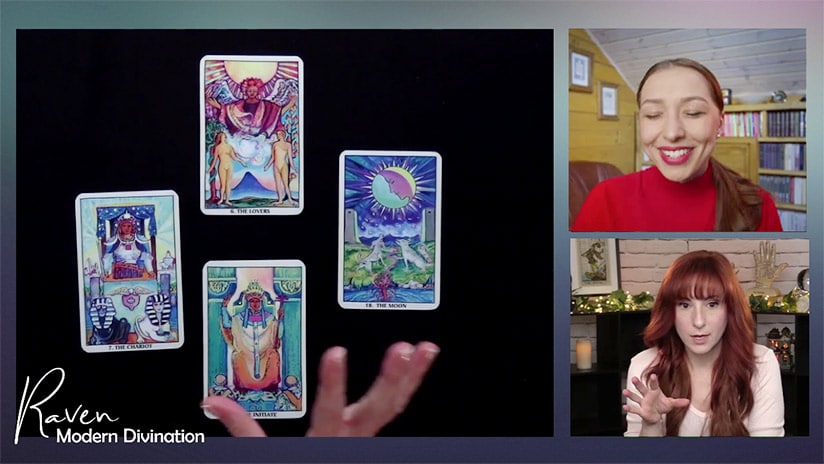 How Does it work?
SELF-CONTAINED VIRTUAL EVENT


The most hands-off option for event planners.


I'll block out the time on my calendar that works best for you and your guests. Then all you have to do is supply them with the link to your event, in my online appointment scheduling system, and they schedule their own 5-10 minute live Zoom reading with me.

Perfect for client appreciation events, employee recognition days, resiliency & wellness days and as an all day teaser for a larger group gathering later in the day.
FUN GROUP EXPERIENCES


When you want to gather everyone together and keep them together


I'll lead your group through a fun and fascinating exploration of divination with handy insights and tips along the way. Part show, part workshop and all about you.

Perfect for meeting openers, team building, birthday parties, networking events and virtual happy hours.
BREAKOUT ROOM ENTERTAINMENT


Even though you're gathering your guests together in a Zoom meeting or party, you can still give them a personal, pampering experience.


Assign me to a Breakout Room and send guests in, one at a time. This allows you to keep the party going, socializing & playing games with your guests while they receive a special, personal, pampering moment with me and then go right back to the party.
Obviously every event is different and has it's own set of requirements, therefore I can create custom packages if need be. I am sure that together, we can create a wonderful experience for your virtual event!
I AM SURE THAT TOGETHER, WE CAN CREATE
a wonderful experience for your virtual event!
Request info today